I've been a fan of Drag Queens for awhile now. Who wouldn't? Their big gorgeous hair, make up beat by the gods- not to mention the sheer talent and creativity that these ladies go through! I remember being in middle school and watching Rupaul's Drag Race for the first time, and hearing these ladies humor and instantly my 12-13 year old self knew these were my people. All joking aside I love their melodramatic yet light hearted, and witty personalities that allowed them to exchange and take insults with grace. But these ladies know how to serve looks just as much as they serve jokes!
10. Courtney Act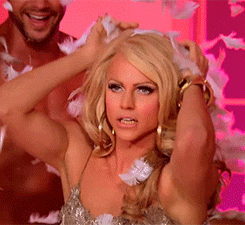 First off props to her for the creative act. When said in her native Australian accent Courtney Act turns into 'Caught 'n the act', fierce!  Her wings killed competition in season 6 of Rupauls Drag Race, but thats not the only coop this bird as destroyed. She is also known for being on Australian Idol in 2003!
9. Adore Delano
Typically a fan favorite, Adore Delano appeared on Season 6 of Rupaul's Drag Race and Season 2 of All Stars. Adore has also put her singing ability to good use as she was also a contestant on American Idol. Her drag style shifted from her season to All Stars. I for one am a fan of her seemingly effortless grunge/street girl style! Her makeup slays and her self love messages are something we could all use a dose of!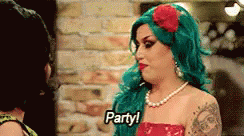 8. Divine
The drag mother of drag mothers, Divine is known  for her lude and raunchy yet hilarious films produced in the 70's. Having died 1988 at the young age of 42, Divine continues to inspire future and current drag queens, along those in and out of the lgbt community.
7. Laganja Estranja
The daughter of Alyssa Edwards, Laganja Estranja is known for her over the top outfits and as being the drag daughter of Alyssa Edwards. In her meantime you can find her running dance classes and roasting bitches by the fire. This is a fierce queen, who stuns away the competition.
6. Raja
I love Raja's style, especially her Hindu and Indian inspired looks. Flawless!  She was on, and won Rupaul's Drag Race and slayed her competitors and went home with her crown. Keep slaying sister!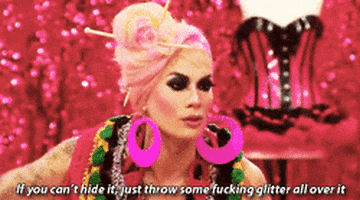 5. Bianca Del Rio
Known as being a comedy queen, Bianca Del Rio is one of the funniest gals around. Her witty sense of humor made season 6. I cant get over the retro vibes she centers her style around, her confidence and wit is inspiring to all!
4.Alyssa Edwards
Big, Bad, and Bold, you wanna add ten? Alyssa will add 20. More is better in this extravagant queen's style, and with her playful and witty personality shes easily a crowd winner. Beside from being gorgeous,  shes a force to be reckoned with in the lip sync battle with her wild and fun moves. She can out dance, out look, and out roast anyone, shes a queen! Tounge pop away babes!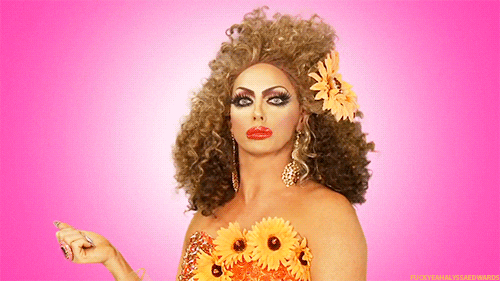 3. Raven
Raven is a queen with a dark fashion sense and loves her black, though shes not afraid to venture out in a bright colored costume. Her make up is always on point and her outfits reflect her unique and fashionable self. She was the runner up in Rupaul's Drag Race season 2 and the first season of All Stars.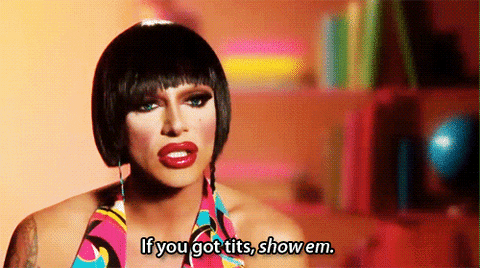 2. Katya Zamolodchikova
Not going to lie, my copy and paste button came in good use with helping me with her last name! This Russian queen destroyed most of her fierce competitors in Season 2 of All stars and season 7 of Rupaul's drag race. Her drag character is unique and is an interesting persona.  Her outfits are some of my favorite, especially the 80's look during All Stars thats pictured above- What i wouldn't give for a replica!
2. Detox Icunt
Detox is a queen who has dedicated herself to drag in the form of permanent body modification. She is an artist in every sense though, her outfits are skillfully planned out unique. She's definitely a head turner, and a talented drag queen.
1.Alaska Thunderfuck
Although gaining a bad rep in All Star's season 2 for being a 'snake', I've loved Alaska ever since she was introduced in season 5. She's my all time favorite drag queen due to her humor that has me laughing along with my tv and her outfits that have me gagging! Her creativity earned her the crown in All Stars, which was well deserved as there wasnt one competition she faltered in!